Linate Trains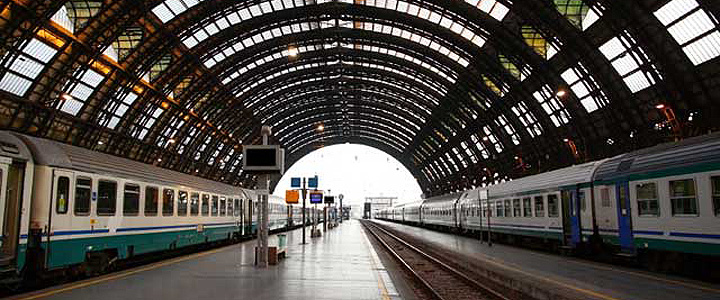 Trains
There is no railway station at Linate airport, but there are several different options of getting into Milan city centre that do not involve a train.
There is a bus from Linate airport to Milan that runs to central Station which can be caught from the Arrivals Floor. You can purchase tickets for this service at Agenzia Autostradale Linate, or on the actual bus. The bus also stops at Lambrate on the way to Milan Central Station. This service is run by 'Starfly' and you can contact them on +39 02.5858.7237
Taxis are located outside of the Arrivals lounge at Linate airport, so can be easily found.
Or you might prefer to organise a private transfer or seat on a private shuttle bus from Milan Linate Airport into the city centre.
Milan Central Station
Milan's Central Station is pretty much where you would need to start most train journeys as this is where the majority of train lines into Milan start or end. Here you can also gain access to all the lines running in Milan's Metro system – red, green and yellow.
From Milan Central you can more or less get around the whole country train to Florence for instance will take you 2 hours 44 minutes at a starting price of €25,00.
Milan's Central Station was built in 1864 and located right in the centre of Milan city. Being this central it is close by the tourist attractions and also great for designer shopping – if that's what you like!
Milano Central Station is closed between 01:00 and 05:00 and they have a lost and found department that is open from 08:00 am to 18:00 and can be contacted within these times on +39.02.637.12212.
They also have a Tourist information office which is open from Monday to Saturday from 09:00 to 18.30 and on Sundays between 09:00 and 17:00 but closes for lunch at 12.30 for one hour. The Tourist office can be contacted on +39.02.774.04318