Information for Travellers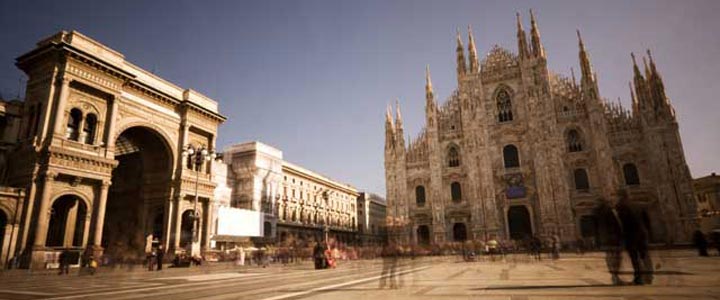 Italian Immigration Requirements
A valid British passport must be held for entry to and exit from Milan. There is no minimum validity requirement but it must be valid for the proposed period of your stay.
If you are planning to live in Italy you must take out a residence certificate at the Anagrafe within three months of arriving there. You do this by providing some proof of employment or financial resources, which can be in the form of bank statements, tax returns or an employment contract.
Certificato di residenza (residence certificate): enables you to buy a car, open a bank account, etc. It is issued by the Anagrafe office of the local town hall and is a confirmation that you really do live where you claim to.  The Vigili (local policemen) will physically come and check where you live so it may take a couple of days for the certificate to be ready for collection.
Driving in Italy
You must be aged 21 or over to hire a car in Italy and in some cases you must have held that licence for at least one year. Some car rental companies who offer luxury vehicles will only rent to drivers over the ages of 25 or 30.  Make sure you check with the rental company you are using beforehand.
As much as 75% of Italy is mountainous with some autostrade having long tunnels and bridges.Tunnels link Italy with France and Switzerland: Tunnel du Frejus and the Mont Blanc Tunnel  link Italy and France in the Alps and the Tunnel Gran San Bernardino crosses the border to Switzerland.
When driving in Italy please remember that you drive on the right hand side of the road and overtake on the left. An easy way to remember is that your passenger must always be next to the curb! The speed limits vary: For cars, and motorbikes over 150cc: urban areas are fixed at 50Km and secondary and local roads at 90Km. 110Km on main roads outside urbanisations and 130km on motorways.
Most petrol stations will take payment by credit card but in rural areas small garages will only accept cash. Most gas stations in smaller towns and villages close for lunch and all day Sundays. Motorway service centres remain open. The majority of petrol service stations are manned with a pump operator filling the car while the driver remains in their seat. You need to tell the operator which type of fuel and how much is required. The options are:
Unleaded fuel: benzina senza piombo (available in 95 and 98 octane)
Diesel: gasolio
Full/to fill up: pieno/riempire
(Leaded fuel has not been available in Italy since January 2002)
Seat belts are to be worn by the driver and all passengers and children are to be strapped into child seats. Mobile phones can only be used if hands free. It is illegal to overtake a bus that has stopped to pick up or drop off passengers.
Whilst driving on the motorways in Italy it is compulsory to have your headlights on – even in daytime! If you break down or have to stop and exit the vehicle on the motorway it is also compulsory to put on a reflective jacket – again, even in daytime! As in England you will find speed cameras along the motorways so it is advised that you stick to the speed limit. The signs for the speed cameras are "Attenzione velocita controllata!. Don't forget that most of the motorways in Italy are toll roads so carry some euros with you.
If you are visiting historic city centres in Italy you will notice signs that say 'Zona Traffico Limitato': these are areas that only allow authorised vehicles during restricted hours which will be displayed under the sign. If you access these areas during the restricted times a camera photographs your number plate and you will be sent a fine – unless of course you are registered with the Municipal Police and are authorised to enter!
Drink driving in Italy is a BIG no no! You will only need to have 0.05% alcohol level in your blood to get in trouble with the police. My advice is to not drink at all if you plan on driving – that way you will always be safe!
Italian Local Laws
You can be fined for dropping litter in Italy and it is an offence to rest or sit on the steps or in a courtyard of Churches or public buildings to eat or drink. This may also apply to the immediate surroundings of the building, but there will be warning signs if this is the case.
Large fines are also given if you are caught buying counterfeit goods from street traders which are on offer in most of Italy's cities and towns. Copy designer products are big business in Italy, however, the authorities are making a huge effort to stamp it out and do not take kindly if you are caught.
It is regulation for tourists to be registered with the local authority upon arrival in Italy and your hotel will request your passport so they can take photocopies for this and for their records. If you are not happy about handing over your passport, then you may want to take your own photocopies with you.
There are British Embassies in all the major cities of Italy and they are there to help you if needed. The offices and locations can be found by clicking on the link.
Health Cover in Italy
The Form E111 is no longer valid. You should obtain a European Health Insurance Card (EHIC) before leaving the UK. This is not a substitute for medical and travel insurance but entitles you to emergency medical treatment on the same terms as Italian nationals. You will not be covered for medical repatriation, ongoing medical treatment or treatment of a non-urgent nature.
If you move to Italy permanently but are not yet working or receiving any state benefit from the UK, you are entitled to use the form E106 which will enable you up to 2 years free Health Cover. You will have to apply for this before leaving the UK from your local Social Security Office. Once you get employment or start to receive a state benefit the E106 is no longer valid.
If you are planning on working in Italy after moving there, then your employer should pay for your SSN in the taxes that they pay on your behalf. You will then qualify for Italy's equivalent of the UK's National Heath Service.
If you are retired and planning on moving to Italy, as long as you are receiving a state pension from an EU country you are also entitled to the public health benefits but you will need the E121 form which you can get from your local Social Security Office. If you have taken early retirement then you will have to use the E106 form for your 2 years free health cover, but after that you will need to either pay voluntary payments to the Social Security or take out a private health plan.
Money
Since 15 June 2007 new legislation on the controls of cash entering or leaving the EU apply with any person entering or leaving the EU will have to declare the cash that they are carrying if this amounts to €10,000 or more (including cheques, travellers' cheques, money orders, etc) and will not apply to anyone travelling via the EU to a non-EU country (as long as the original journey started outside of the EU) nor to those travelling within the EU.
British Consulate Offices in Italy
Telephone numbers and locations of British Consulates in Italy can be found at www.ukinitaly.fco.gov.uk
Opening hours, telephone numbers and addresses of all British consular posts can be found by clicking on "consular offices"